Pumpkin Spice Sweet Biscuits
with Downey's Honey-Butter
Sweeter than regular biscuits but healthier than a cookie, these sweet biscuits are perfect for brunch or an afternoon tea. They also make a pleasant addition to Thanksgiving dinner.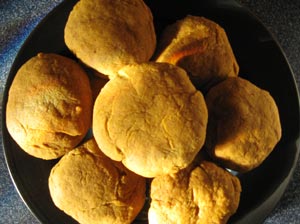 Ingredients:
1 cup all-purpose flour
½ cup whole wheat flour
½ teaspoon baking powder
½ teaspoon baking soda
½ teaspoon salt
½ teaspoon ground cinnamon
½ teaspoon ground nutmeg
½ teaspoon ground ginger
¼ teaspoon ground cloves
½ cup butter
¼ cup Downey's Cinnamon Honey-Butter
½ cup brown sugar
½ teaspoon vanilla
1 cup canned pumpkin
1 egg
Preparation:
Preheat oven to 325 degrees.
Mix together white flour, wheat flour, baking powder, baking soda, salt, cinnamon, nutmeg, ginger, and cloves. Set aside.
Cream together butter, honey-butter, brown sugar, and vanilla. Beat in pumpkin. Beat in egg.
Mix together wet and dry ingredients.
Refrigerate dough for an hour or more.
Roll dough out on a lightly floured board and cut or shape into circles.
Bake for 25 minutes.