Peanut Butter Cookies with Original Downey's Honey-Butter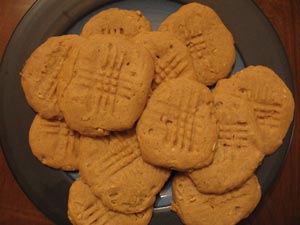 Ingredients:
¾ cup all-purpose flour
¼ cup whole wheat flour
¾ teaspoon baking powder
¼ teaspoon salt
½ cup peanut butter
¼ cup Downey's Original Honey-Butter
¼ cup softened butter
¼ cup brown sugar
½ teaspoon vanilla
1 egg
Preparation:
Mix together flours, baking powder, and salt.
Cream together peanut butter, honey-butter, butter, brown sugar, and vanilla. Beat in egg.
Mix together wet and dry ingredients.
Chill dough for 1 hour.
Preheat oven to 325 degrees.
Roll dough into small balls.
Flatten each ball on cookie sheet.
Use tines of fork to make cross marks on each cookie.
Bake for 11-13 minutes, depending on size of cookies.
Cool on wire rack.