Honey-Butter Baked Chicken
This very simple recipe makes chicken tender and moist and provides a hint of sweetness.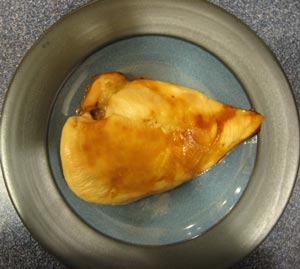 Ingredients:
Chicken breasts
Downey's Original Honey-Butter (room temperature)
Salt and pepper
Preparation:
Preheat oven to 350 degrees.
Rinse trimmed chicken breasts in cold water.
Pat dry with paper towels.
Salt chicken to taste.
Place chicken breasts in a single layer in a baking dish.
Top each chicken breast with Downey's Original Honey-Butter.
Bake in 350 degree oven for 45 minutes or until the thickest part of the chicken is no longer pink.
Add seasoning to taste.