Honey-Butter Baked Squash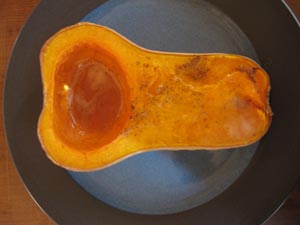 Ingredients:
1 Butternut squash
2 tablespoons Downey's Original Honey-Butter
Salt
Pepper
Preparation:
Preheat oven to 350 degrees.
Wash squash.
Cut squash in half lengthwise.
Scoop out seeds.
Place squash on a baking sheet.
Add 1 tablespoon of honey-butter to the seed cavity of each half.
Bake at 350 degrees for one hour or until tender.
Scoop squash from its peel and mash with a fork, adding additional honey-butter, salt, and pepper to taste.