Apple Cinnamon Pancakes
with Downey's Honey-Butter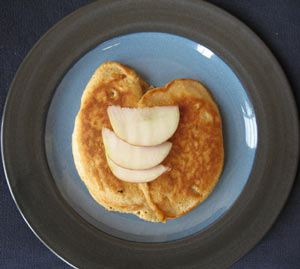 Ingredients:

1 cup all-purpose flour
¼ cup whole wheat flour
1 teaspoon baking powder
1 teaspoon baking soda
¼ teaspoon salt
1 tablespoon sugar
1 egg
2 tablespoons Downey's Cinnamon Honey-Butter
1½ cup milk
1 tablespoon melted butter (plus more for the pan)
¼ teaspoon vanilla extract
¾ cup diced apple
Preparation:
Whisk together flours, baking powder, baking soda, salt, and sugar.
Beat together egg, Honey-Butter, milk, butter, and vanilla.
Add wet ingredients to dry ingredients and stir.
Fold in apples.
Heat pan, skillet, or griddle over medium-high heat.
Coat pan with melted butter so the pancakes do not stick.
Use ¼ cup of batter for each pancake.
Cook until bubbles form and edges of pancake begin to dry.
Turn pancake. Cook until golden.